We are a local Costa Rican family living on a small organic farm. We are in the process of creating a sustainable living situation by utilizing permaculture techniques, protecting the forest that surrounds us, and participating in our local economy.
10 acres are dedicated to chemical-free agriculture demonstrating functioning agroforestry and permaculture. Water is plentiful here, thanks to abundant rainfall and the waterfalls of the property. The soil is diverse while rich in minerals is also fairly acidic.
Over the past several years, we are recovering this soil by regularly hand tilling the earth and fertilizing with rich compost produced onsite, including companion plants, and a mixture we make from microorganisms gathered in the forest.
In addition to providing a peaceful place that facilitates connection with nature, by the proximity to the national park La Cangreja 5.000 acres of natural flora and fauna, Villas Mastatal strives to inspire each volunteers to relax, enjoy and explore ways in which they can incorporate the concept of sustainability into their own lives.
Volunteers will typically work Monday through Friday for about 4 hours  a day. 
Saturday and Sunday are free time to explore the region.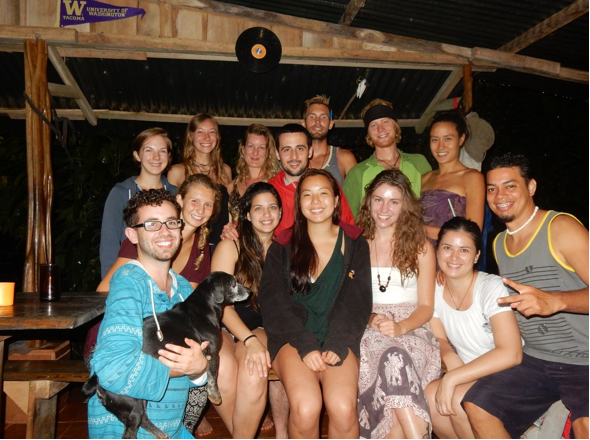 We can advise the best location for you to visit. We do our best to provide a wonderful experience for all volunteers and we hope to receive the utmost in respectful participation in turn for the entire duration of your stay.
Meals
We offer three meals a day of the best typical Costa Rican food (primarily from our own chemical-free gardens) will be provided each day according to the following schedule:
Breakfast: 7:30 a.m
Lunch: 12:00 p.m
Dinner: 7:00 p.m
Our family will be cooking local meals for the volunteer: rice & beans, fruit and salad are always served. We also make bread, tortillas, empanadas, eggs, cheese, soups, and occasionally meat would be served.
Vegetarians and vegans are easily accommodated !
Accommodation
The lifestyle is very laid back, we ask for several hours in the morning when sunshine is not too strong yet and you have free time to discover the region in the afternoon.
You will be hosted in comfortable sleeping accomodations, that you can see more here. A dormitory that we keep clean and confortable, as well as individual rooms for couple with children, we can adapt to your situation! We also have a washing machine that is available for free to all volunteers.
The only thing we ask is to keep their area clean, as well as the common spaces, and try to keep the place quiet after 9pm.
Projects on the farm include: 
-Natural Building
-Planting Trees
-Maintaining and Harvesting Crops
-Maintaining the Medicinal Garden
-Taking Care of the Animals
-Hydroponic system
-Aquaponics system
-Creative with ceramic art
-Organic Agriculture
-Medicinal plants
-Certified Yoga teachers
-Cooks
-Bakers
-Cheese makers
-Bees
-Coffee plantation
-BABYSITTING to teach English to a child of 5 years old !
During Winter season (May-December) as water is unlimited will be the season of planting so expect some work in the field. During Summer, (January-April) there could also be construction work to develop the permaculture facilities. Of course, task can be adapted to your knowledge and subject you would like to digg in.
We produce organic crops. We have pig, chickens for eggs, dogs, 1 cat and several cows. We are now focusing on building more organic crops, specifically fresh vegetables like chilies, tomatoes, yuccas, oranges, lemons, pineapples, sweet potatoes, zuchinis, mangos, papayas, aguacates, cucumbers, mustard, starfruits, pejibayes, platanos, bananas, chayotes, frijoles, carrost and other locally grown vegetables.
There are volunteer opportunities for construction projects (mostly in summer season), gardening, and working with medicinal plants here on our farm as well.
What can I do during my free-time?
-Take trips into the national park or walk to the nearby waterfalls
-Swim in the river, visit local hot springs, climb the mountain of la Cangreja ( 1300 mt )
-Birdwatching , Hiking in the mountains, riding horse , going to the Indigenous Reserve zapaton…
– Attend Spanish School in Mastatal 20 minutes walk from the farm
-Of course relaxing and reading in the hammocks are encouraged, as well as yoga on our outdoor deck !
¡ PURA VIDA !