The extension of agriculture is 50 acres of which includes our wild untouched forest and has remained property of the family since the 1970. The farm has changed a lot over the decades, now entirely an organic educational farm that follows the practices and principals of permaculture, comprehensive farming, organic farming and has integrated many other skills such as heavy duty design and regenerative agricultural machinery.
We receive volunteers and University groups every year. Part of the culture and the mission of Villasmastatal is to share ideas and knowledge. Because of this philosophy, we are always open and ready to hear new ideas and proposals of projects to of course, share. Meanwhile we maintain the trees, planted gardens and ongoing projects.
The plants
We have a wide range of plants and trees, such as mango, pineapple, orange, tangerine, sweet potato, cassava, banana, wood trees, spinach, cucumber, tomatoes, avocado, many medicinal plants and more. You can be part of our plant project by donating. Through supporting us to plant a tree for this incredible place it is like having a part of you in Villasmastatal for years to come. ( www.paypal.com $10 or more ) thank you for helping our planet by planting trees.

The animals
Here at the farm we have chickens, a pig, a few cows and bulls and 2 lovely dogs.
Other wild animals are easily identified on the farm and surrounding area, such as exotic frogs and amphibians, and many different types of birds and mammals. The property is a "biological corridor" for Macaws, (manor house of peace) so they are easily spotted and heard throughout the year.

Permaculture project 
This is a list of a few of our wide range of permaculture systems: companion plants, erosion control, and hydroponics systems which began in late 2011. The results have been incredible. We are looking for project for the future to take this to the next level.
Check our volunteer section for more information.
The Medicinal Garden 
Natural medicine is one of the best ways to use what Earth offers us. We began our medicinal garden in early 2013 and we intend to expand it as much as possible. Workshops with local indigenous people have shown us what was done in the past and we want to continue cultivating and spreading this knowledge.

The Yoga deck 
We feel permaculture is not only about efficient systems but also to keep people happy and healthy. Our yoga deck has exceptional views and offers a place to relax, greet your body and enjoy the magical sunsets and open night sky with breathtaking stars.
Effective microorganisms (EM)
We strongly benefit from the natural decomposition in the wild forest and other natural products to improve the quality of our fertilizer, while clearing paths simultaneously. We are already organic by regenerating our soil with efficient microorganisms.
Compost / Earthworms
The worms are able to create great quality fertilizer ad can help with the stucture and fertility of the soul. We have a worm compost that is ready to be spread out in the gardens of the farm. An excellent worm compost has the capacity to eat waste and provide amazing compost for plants.
Compost / dry toilets
compost toilets significantly reduce the impact on the environment, while one creates compost it will return into the earth and close the cycle. We offer dry and regular bathrooms with excellent views as well! A detail about the regular bathrooms is they are fed with the water used from the laundry machines (recycled gray water), in other words we are not using clean water in the bathrooms regularly.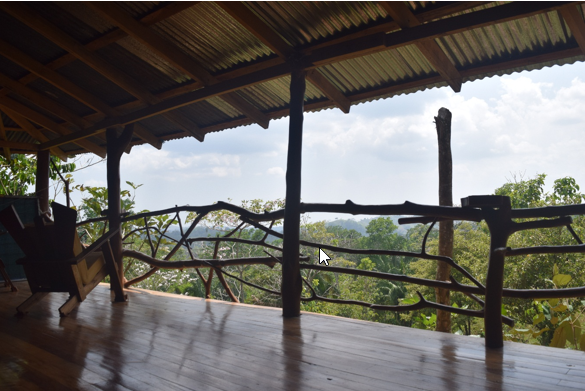 Natural structure
We are constructing various structures that utilize wood that grows on the farm with mud, empty bottles, broken tile and glass, and almost anything and everything that we are able to reuse in the farm is reutilized.
Often, visitors want to bring and donate items to the farm and are not sure of what we need. Here is a list of various things that are very useful in the farm. Thank you in advance for your participation to the family of Villasmastatal !
• Lighters                   • Storage containers      • Tupperware               • Hammocks
• Mattresses              • Chairs                            • Shielded tents            • Cutlery
• Pillows                     • Blankets                        • Towels                         • Notebooks and supplies for art
• Computers              • Software etc.                • Garden equipment   • Electrical tools
• Carpentry tools      • Gardening gloves        • Extension cables       • Seeds (for plants the grown in the tropics)
• paint and pencils   • scissors                         • pencils                         • pens
• markers                   • musical instruments  • guitar strings             • yoga mats
• speakers
Last but not least, BOOKS ! (donations always welcomed, we have an axchange library where you can pick your next lecture ! )