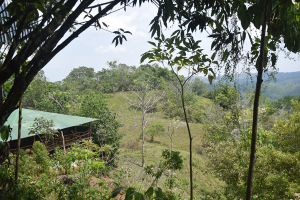 Villasmastatal eco lodge has the capacity to accommodate 40 people in a nice and comfortable room and a fully equiped and proportional kitchen for feeding all.
Currently we have 3 standard rooms, 2 bungalows family rooms with kitchens and a 2 storey shared dorm for groups that can host about 28 + 15 people.
The CABANNON with views
It is the best economical options which include jungle views, bathroom with shower, refrigerator and standing fans.
It is the perfect balance between design and comfort, with views over Cangreja park. It will give you the sense of being in a wood cocon in the middle of the costa rican forest,
40$ for the room, including breakfast. You are welcome to use the kitchen and share all the common spaces such as yoga deck, rancho area as well as the visit of the farm.
Fully equiped bungalows
The bungalows are literally embedded into the side of the highest part of the property, therefore offering beautiful views of the surroundings moutains.
What immediately catches your attention in the rooms is you become an extension of this exotic atmosphere.
These are spacious, well-equipped bathrooms, you can choose with balcony or kitchen included.
The price is 60$ for two or three people (one matrominal bed and one single bed), perfect for family or little group if you are coming to visit our beautiful region. This also include the breakfast cooked by us with product from the organic farm.
What stands out about Villasmastatal is the ability to immerse the visitor in a unique experience of Costa Rica right in the middle of the natural environment.
Here is the link if you would like to book through airbnb.
Feel free to contact us for staying at Villas Mastatal, as a guest or volunteer, we are sure we can offer the best in term of budget and confort.
Here are other good reason to come to villas mastatal:
• Near the natural park and wildlife refuge
• Eating healthy and organic food from the garden. You can actually see the trees and learn more about organic farming and permaculture during your stay
• Rivers and waterfalls on the property, 5 minutes down a little track we have designed
• Practicing your Spanish with us ( and learning other languages with the international volunteers )
• Live with a Costa Rican family while enjoying your free time to discover around
• Practice Yoga in the morning by yourself or with our yogii on site !
• Fresh fruit always available, as well as coffee from the plantation
We hope to host you soon in our beloved farm !
¡Pura Vida!