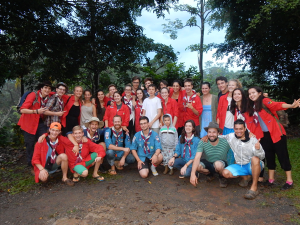 Educational Tours offers the opportunity to dive into the world of organic farming and sustainability and live with a Costa Rican family learn from their culture customs animal care and various local educational tour, while enjoying the biodiversity of Costa Rica and the beautiful waterfalls La Cangreja national park.
Excursions usually last 7 days and include various activities that contribute to a comprehensive introduction to sustainable building, organic farming, indigenous practices and culture of Costa Rica.
Here is an example of the tour we usually do:
a) 1 night accommodation with a local family in the village (homestay) and the other nights in our family at the organic farm ;
b) Participation in all activities at Villas Mastatal organic farm (planting, harvesting, composting, etc.);
c) Ecological walks and excursions to waterfalls, surrounding hills and the La Cangreja National Park ;
d) Discussion on sustainable development and practices with local specialists ;
e) Visit to the Indian Reserve Zapatón and learn about cultural history, medicinal plants and local art;
f) Visit to Rancho Mastatal, a neighbour organisation, for learning on sustainable buildings construction;
g) Visit to La iguana chocolate making its own cacao bars, where you can have a tour to see the making process ;
h) Participation to activities in the community (Ex : Football games with local and volunteers);
j) Projects at the local school and school improvement.
We receive groups of students from different US Universities each year, as well as groups of local universities in San Jose and hiking groups.
Below is a list of universities that have visited Villas Mastatal as part of its program:
Appalachian State University
Irvine, University of California
Their program and some experiences on their facebook
University of Maine
Claremont McKenna College
Elmira College
¡HOLA, HABLÉMOS!