VillasMastatal is an Eco Lodge and rural community of 50 hectares of primary forest and 10 hectares of edible forests based on the principles of permaculture design. VillasMastatal offers trails for hiking, permaculture designed gardens, cabins fully equipped with a beautiful view of the jungle, community spaces to meet other travellers from around the world, a yoga platform with a view of the National Park forest, and the opportunity to observe an abundance of wildlife from guacamarya and toucans, to monkeys.
Today's traveler values unique experiences, great food, connection with Mother Nature, conscious travel with low environmental impact, sustainability, and authentic human community. An 'authentic' experience is not something you can ask off the menu, it is something that is co-created organically. Discover your own true desires and adventure here at The Wellness Retreat VillasMastatal.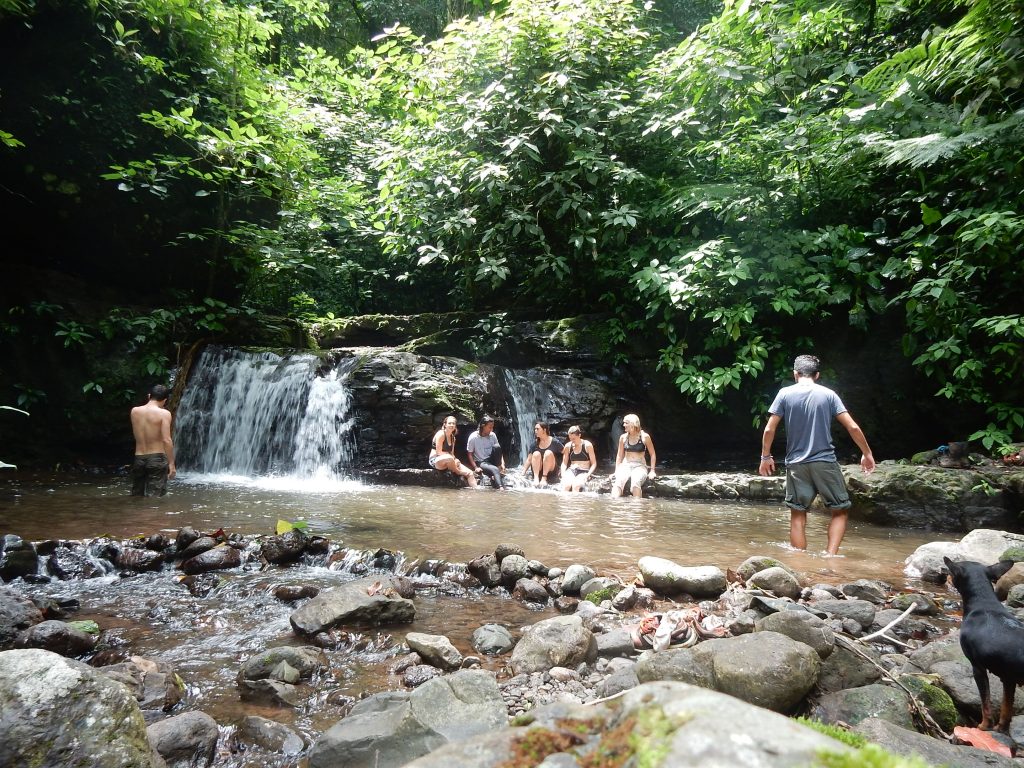 Located in the jungle, alongside the main road to Mastatal, jut a few minutes walking you will find centralised refuges of wildlife in La Cangreja National Park. VillasMastatal offers a sanctuary for travellers in search of enjoying nature's beauty, healing energies of the forest, and the most impressive adventures of Costa Rica. Disconnect with the stresses of everyday life and the outside world, and reconnect with yourself and what really matters.
The Wellness Retreat VillasMastatal is more than just a comfortable bed and delicious food. VillasMastatal seeks to respect nature, animals and natural riches in the beautiful surroundings with an experience of living sustainability and in harmony with the environment by harvesting our own food and cooking as a community.
Our property extends more than 50 hectares with natural trails that offer the opportunity to enjoy the natural beauty of Costa Rican wildlife. This includes the 5 minute arrival to the National Park that is full of waterfalls. These crystalline waters flowing from the mountains offer just the relaxation you need.
Our yoga deck and meditation area will offer you the gift of reconnecting with your inner wisdom. Our instructors offer all different classes and levels to accommodate your needs and enhance your wellbeing and physical health.
If you are an expert in something that you'd like to share with our community, we love to say cheers to your talents that can enrich our lives and provide you with the safe space to share and explore. Finally, our permaculture gardens offer treasures to explore and tastings of delicious tropical fruits. You will be intoxicated by the aroma of hundreds of tropical flowers.
GARDENS AND TRAILS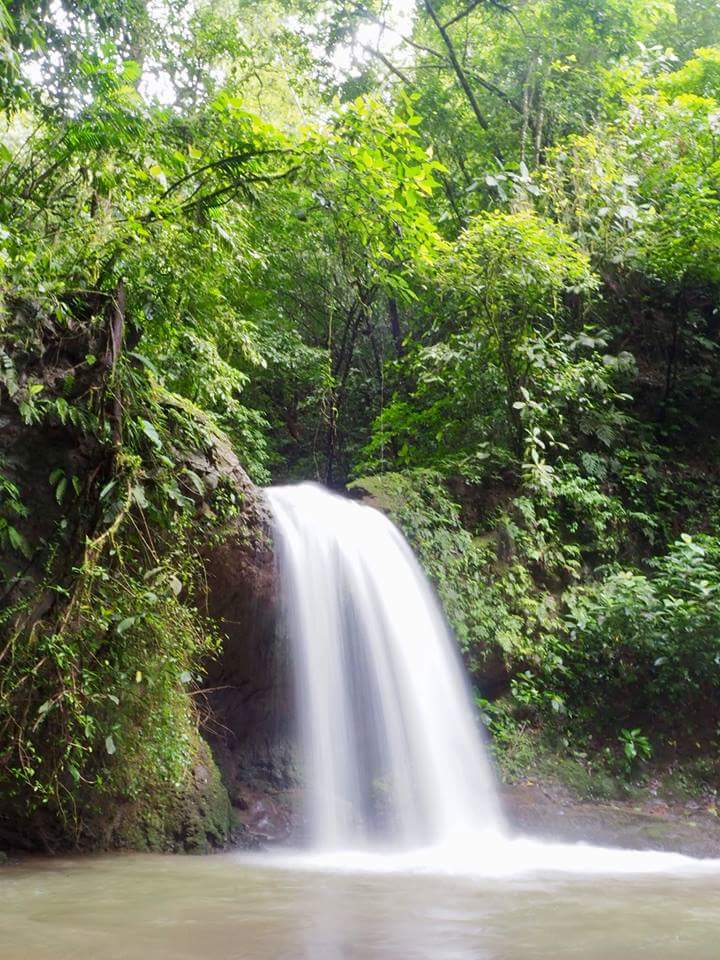 Explore our three main trails that give you a great showcase of Costa Rican jungle. We recommend you join us in the hikes to our favourite Twin Waterfalls.
EXPLORE WITHIn – FOREST BATHING
With such a beautiful place like this one, what could be better than being surround by the jungle as you sit on the edge of the creek with your eyes closed, reflecting and connecting with your inner wisdom. Imagine sharing early mornings doing yoga connecting with new friends from all over the world.
Registration of Retreats in COSTA RICA 2020 –
Please, send an e-mail to be included on the waiting-list in case an additional space opens. Follow us on Instagram @VillasMastatal to receive updates on future retreats!
The majority of people want to do good while feeling good. Here, you will become so full of energy and healthy to make the world a better place. We assure you that the majority of people that come and experience this place, leave feeling of inspiration and equipped with the tools and mentality to put change into action. They leave feeling full of the capability to make their dreams a reality in relation to sustainable agriculture, permaculture, plant-based food, and making the world a better place.
What does it mean to leave authentically?
During this five day retreat, we will explore life as a regenerative community. We will connect with our humanity and with what lives within each and every one of us. We will learn how to regenerate our beautiful home that has been abused for too long. We will heal ourselves to heal the planet. A magical week of learning, connection, healing, and living a life that is sustainable through our actions.
You will leave feeling empowered with the tools to effectively change the world, unforgettable memories, and friends for life. We are anxious to see you here! Pura Vida.
What will you gain from this retreat?
Empowerment to make decisions
Tools to create social change
A true experience of regenerative and sustainable living
Immersion into nature
Holistic health (mind-body-spirit) and wellbeing
Friends for life
Immersion into authentic Costa Rican culture
Immersion into Permaculture techniques and everyday practices
Themes include:
Permaculture
Plant Based Nutrition
Yoga and connection to mind-body-spirit
Meditation
Good Eating Habits
Detoxification and Purification
Sustainable Development
Medical Plants Workshop
Activities:
Daily Yoga
Daily Meditation
Harvest and Cultivation of Food
Cooking Class of Plant Based Community Meals
Workshops and courses about Sustainability and Regeneration
An Individual Photoshoot
Painting and Art
Cacao Ceremony
Tree Planting
Discussions
Excursions:
Hiking in La Cangreja Nationa Park
Acess to 5+ Waterfalls
Forest Bathing
Chocolate tour
The Location: Villas Mastatal
Villas Mastatal is a permaculture farm and Ecolodge located in the small town of Mastatal in the beautiful Central Valley of Costa Rica. The property is 50 hectares that has been owned and managed by the same local family for more than 65 years. During this time they have planted thousands of trees, established an edible forest that they can sustain themselves and guests of the farm with, and have hosted hundreds of groups of international students.
You can read more about the family here: info@villasmastatalcr.com
The property has beautiful and varied accommodations for guests, with a well-equipped kitchen and long dining tables for community gatherings. The large yoga terrace has a breathtaking view of the mountain. The wood-burning oven offers typical flavours and there is a waterfall on the property by only 10 minutes walking. There is also an abundance of available hammocks for relaxation and rest.
There is so much to do in Mastatal and we will take advantage of everything. Mastatal is at the foothills of La Cangreja National Park — an impressive protected landscape with over 1,000 species of flora; of which 44 are endemic, and 380 species of birds. The numerous trails of the National Park pass through dozens of waterfalls. The hike to the top of the mountain offers an incredible view of Mastatal, the Central Valley, and the Pacific coast.
In this small town of approximately 80 people, there is a beautiful community. Mastatal is a very close knit with five dominant families residing in the area. In recent decades, it has become an international epicentre for a sustainable and regenerative life, with 4 sustainability centres: Villas Mastatal, Rancho Mastatal, Finca Siempre Verde and La Iguana Chocolate, all thriving.
Accommodations:
Most guests will stay in The Sunset Dormitory — a shared space with 16 beds. This structure is surrounded by open air windows and receives a beautiful view of the sunset every afternoon. There are two floors with a large yoga space on the upper floor. There are private bathrooms and beautiful outdoor showers as well as western and dry compost toilets.
There are two private wooden bungalow rooms available upon request for an additional $25 per night
There are three villas equipped with hot water available upon request for an additional $50 per night.
You can find more detailed information about accommodation info@villasmastatalcr.com
Reserve your place!
Private equipped villas (slide to see more photos)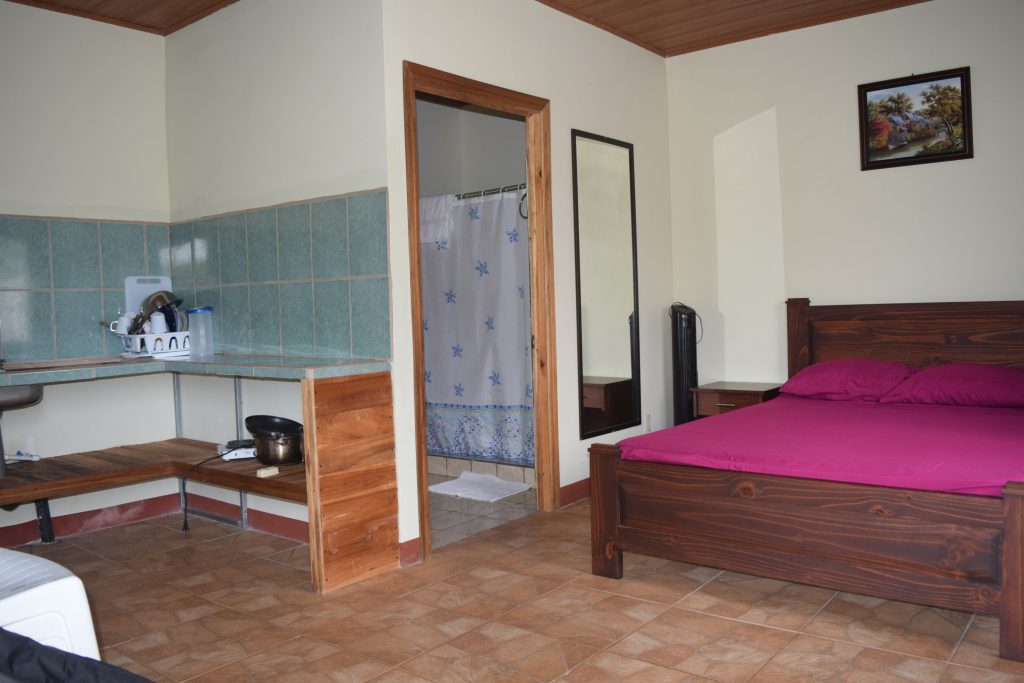 Private bungalows (slide to see more photos)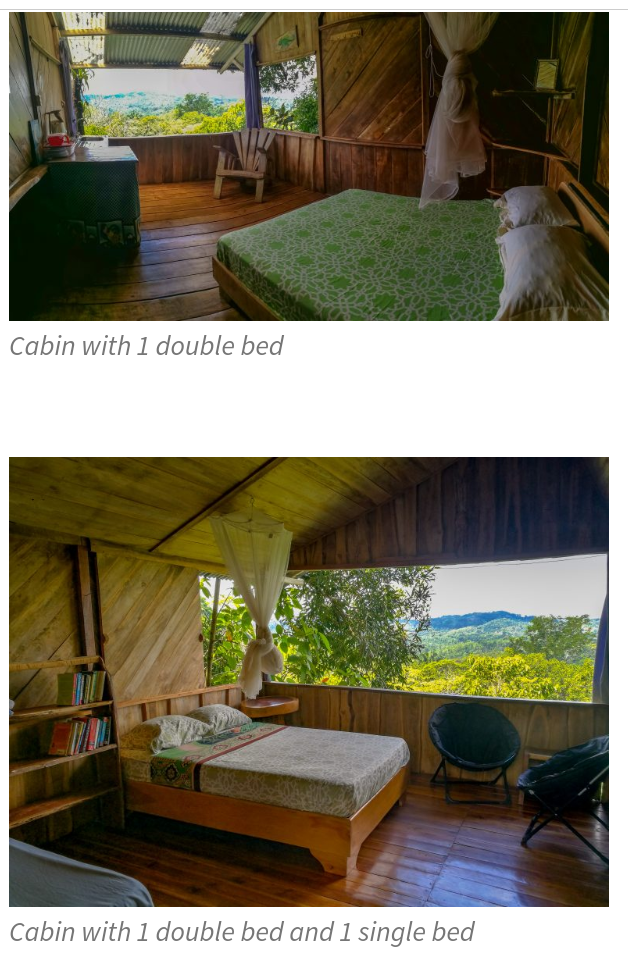 The Sunset Bedroom (slide to see more photos)
Food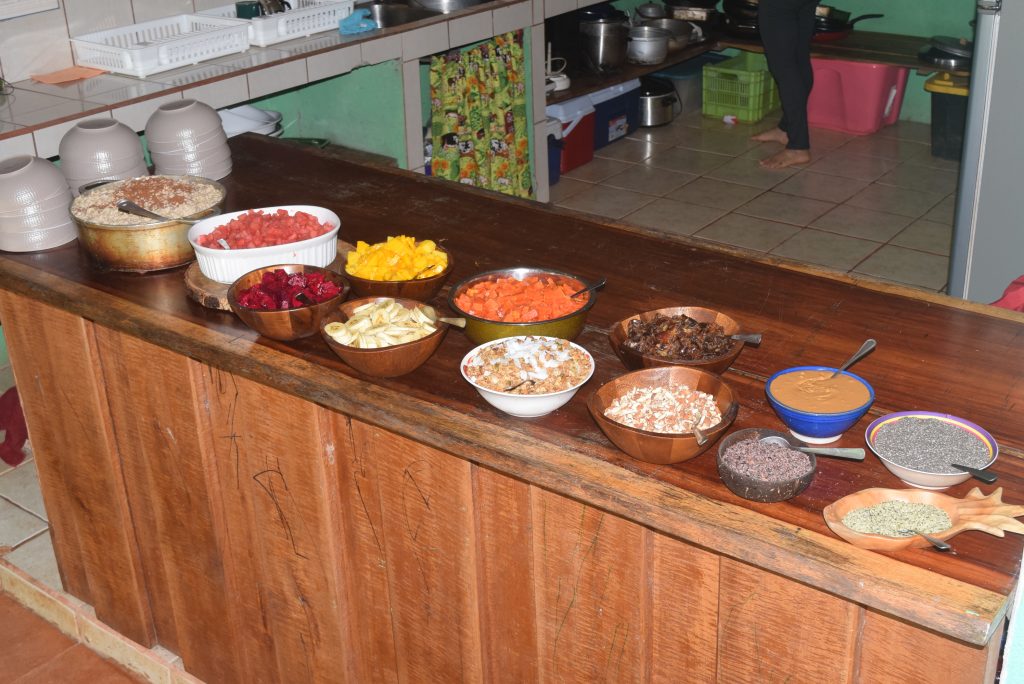 Guests will be well-fed beautiful and nutritious meals created by Raquel Azofeifa, our head chef. Raquel will be in charge, with over 12 years of experience cooking for large groups that visit Villas Mastatal. Guests will be provided three whole-foods, plant-based meals per day, as well as access to fresh fruit whenever they wish. We know this new environment calls for plenty of nourishment and hydration. The meals will be inspired by Costa Rica and enjoyed in community style. Gluten-free diets or any other dietary restrictions will be easily accommodated. We believe in an abundance of food and the meals will be colourful, balanced, and nutritious that we will consume thoughtfully as a community
The participants of the retreat will have the opportunity to join in meal preparation to learn and take home several Costa Rican recipes made entirely by us. Twice a week, La Iguana Chocolate will sell its beautiful organic chocolate products and we will also visit their farm to learn about the cocoa plant and chocolate process.
The Retreat Includes:
Accommodations in The Sunset Dormitory.
Sheets, pillows, blankets and mosquito nets.
Three vegan organic whole food meals daily and snacks and desserts.
Excursions
Workshops
Activities and materials
Daily yoga classes
Daily meditation classes
Private bungalow (limited availability)
Private equipped villas (limited availability)
Transportation from the San José International Airport to the property
Not Included
• Flights
Available Reservation Dates
April 11 – 18  2020
May 9 – 16 2020
June 13 – 20 2020
July 11 – 18 2020
August 8 – 15 2020
Transportation:
We will have a bus that will leave the SJO airport to Villasmastatal on the start date each retreat. Please, if you wish to take this bus you will need to arrive to the airport before 2:00 PM, when the bus leaves for Villas Mastatal.
All participants must arrive at Villas Mastatal before 6:00 pm on the start day of the event (check in will begin at noon) and check out will be at 11:00 AM of each end date.
Please note all times are the Costa Rican Time Zone: Central Standard Time
You can book a direct private transport with us at $150 USD each way
You can take the bus (directions here) or drive (directions here). Regardless of your mode of transport, let us know how you will arrive and at what time.
Cost:
The cost of this all-inclusive retreat (meals, lodging, transportation to and from the SJO airport that leaves the same day of each retreat, lessons and activities) is $1,800. To reserve your place, we require a non-refundable deposit of $300 USD, and the total amount must be paid 15 days before your arrival and start date of retreat.
Refund Policy
There is no refund. If you cannot accompany us for the date you choosing, you can change dates to withdrawal, if for some reason you cannot change dates, you can instead send another person in your reservation with prior notice.
There is an option to stay an additional night for $50. Meals are included, but there will be no scheduled activities or lessons. It would be a day to enjoy Mastatal, hang out with the family, go hiking in the park, swim in the waterfalls, or just reflect on your experience in a relaxed hammock and read a good book.
All people over 18 are welcome!
The retreat will be in English with a translator when necessary.
If you have any questions about the withdrawal, feel free to contact
Logistics and planning information
Once you are enrolled in the retreat, we will send you detailed information about all of the following and more. And, of course, we are always available for any questions or concerns.
Transport
Mastatal is 3 hours from the main Juan Santa Maria International Airport in Alajuela, Costa Rica. Private transportation from the airport to Mastatal costs $150 each way.
There will be a pick-up time at the airport for each start date. We can also add a pick-up location in San José for those who can come a night prior and stay in the city, or happen to be in the country.
Mastatal is also accessible through the Costa Rican public bus system from San José, Quepos, Puriscal and more. You can find more information on how to get to the farm on the bus here.
Visas and Vaccines
Many nationalities can enter Costa Rica without a visa for up to 90 days. Those countries include the United States, Canada, the United Kingdom, Germany, Australia and many more. You can check your country's visa requirements here.
You do not need to have any vaccine to enter Costa Rica. In addition to routine vaccinations. Please consult your doctor or a medical professional if you have concerns. It is always a good idea to alert your PCP you are travelling outside the country.
What to Pack
Once enrolled, you will receive a detailed guide on what to pack for this magic week.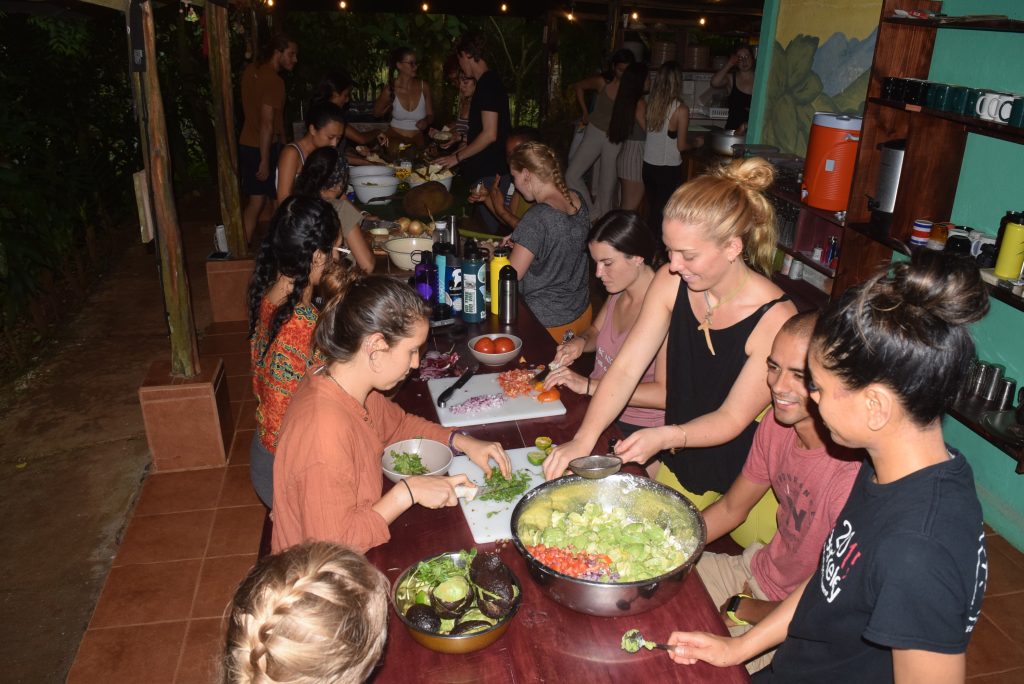 Instructors and Facilitators
Javier Zuñiga Roman and Raquel Azofeifa Garcia
Javier and Raquel started Villas Mastatal in 2007 and have more than a decade of experience in permaculture, off-grid living, community building, and hosting hundreds of international groups. They have transformed their 50-hectare property and inspired thousands while raising two beautiful children, Andrés (8) and Ayanara (3).
Javier's experience has focused in plant-based nutrition, renewable energy, and local organic agriculture, which have given Javier a comprehensive understanding of the different aspects of sustainability and permaculture.
Javi is a permaculture teacher and passionate about nature and Raquel makes magic in the kitchen, with a decade of experience cooking meals from the farm to the table for large groups.
Raquel's passion and experience in cooking farm to the table meals is felt in her delicious food. Her love for nutritious food and her ability to create a food art has no equal.
As a couple, Javier and Raquel create a truly one of a kind experience of familiarity and local tradition. Javier is always open to any conversation and Raquel is passionate about learning from all walks of life. They are welcoming, warm and eager to share their lifestyle with the world. Their children and pets are accustomed to cross-cultural learning and offer joy and fun to the scene. Together they have created a sanctuary for young minds to discover their authentic self and heal from societal pressures.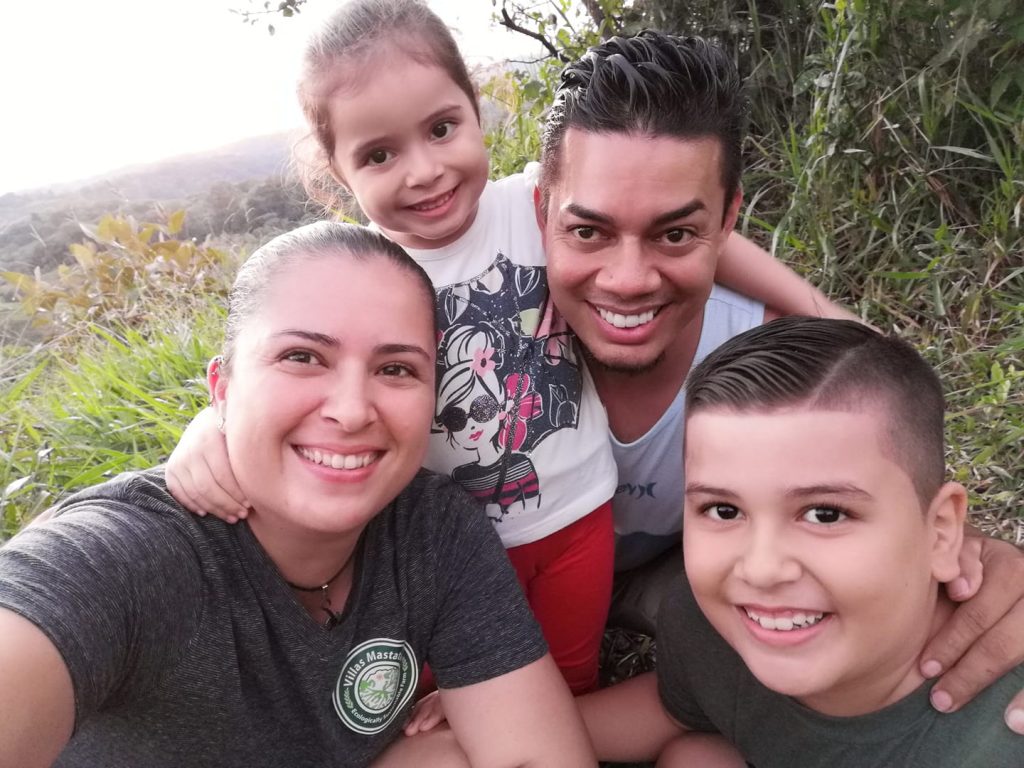 Justine Abelow
Justine first came to Villas Mastatal as a volunteer 4 years ago. What was supposed to be a two-week experience led to a 9-month farm stay where Justine eventually became the volunteer coordinator. She lives an incredibly active and conscious lifestyle. Justine loves to do yoga and cook beautiful plant based meals.
Justine has been living in Costa Rica for four years and speaks Spanish fluently. She is very close with Javi, Raki and their family absorbing extensive knowledge of Mastatal, the farm and the national park. Justine is also a talented artist and will help facilitate a group painting. She is deeply affectionate and compassionate, which is manifested through her love for animals and her passion for veganism.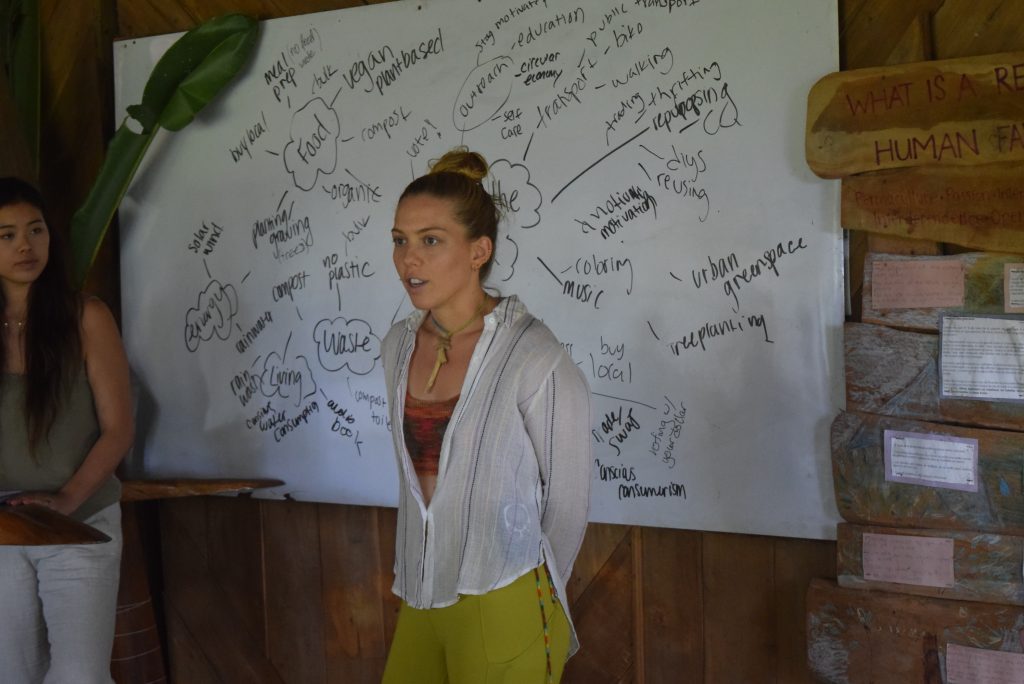 Paula Angulo
Paula is a certified yoga teacher, nutritionist and passionate about ecology and meditation. She offers solid knowledge about holistic nutrition and herbal medicine.
Reserve your place
Register here
Any questions?
If you have any questions about the retreat, do not hesitate to contact us. info@villasmastatalcr.com
Thanks to Katy Grieb for so many beautiful photos of Mastatal! You can check their website, here, to see more photos of the farm and their Instagram, here.
We are eager to see you in Costa Rica!